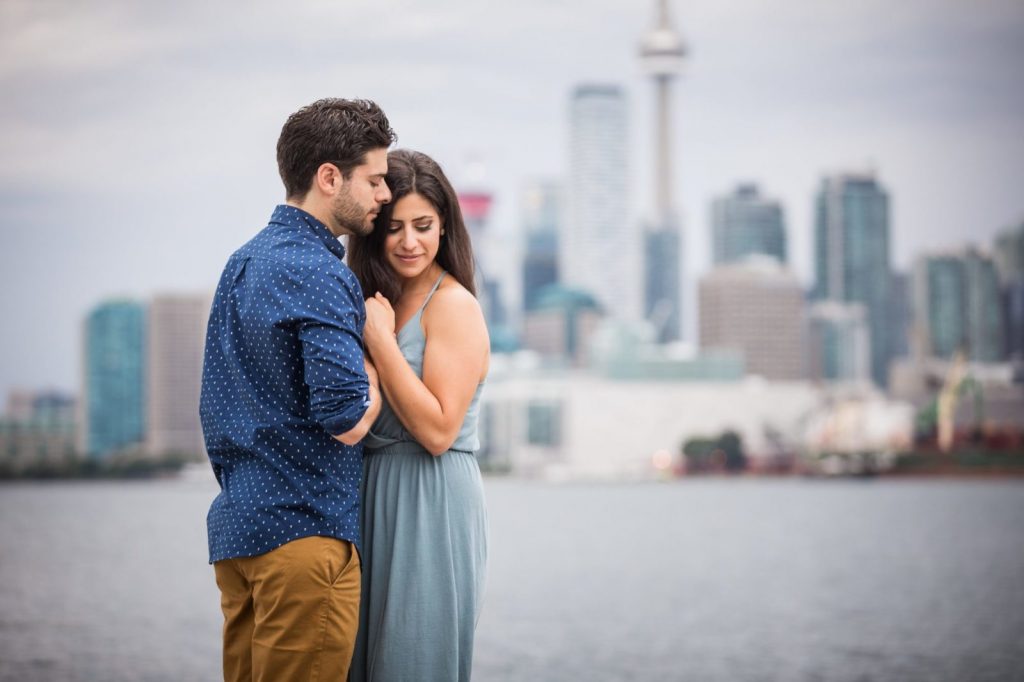 Wedding and Engagement Photography
Locations in Toronto
One of our favourite places to take photographs, Cherry Beach is an unexpected gem — it's a great spot for couples looking for a beachy backdrop, and it's close to the city. Situated on Lake Ontario, this beach features sandy shores, making it perfect for those looking for a beachy vibe. If you're not into the beach scenery, there are also wooded areas, a boardwalk, and a super cute bridge you can use for photos.
Location: On the East end of Toronto, at the south end of Cherry St.
Permit: None required.
Phone: 905 500 1313
2. Evergreen Brick Works, Toronto
A popular destination for photos, about half of all our engagement sessions happen at Evergreen Brick Works! Comprised of distinctive industrial buildings that make for a unique backdrop, there's also a quarry garden surrounded by parkland. With the variety in this area, it's no wonder it's such a hot spot for engagement sessions.
While you don't need a permit to take pictures in the gardens, we highly recommend looking into getting one for inside the buildings; the old brickwork, arches, and graffiti make for some uber cool shots.
Location: Bayview Avenue and Pottery Road
Permit: None required for gardens. Permission required for inside buildings.
Phone: 905 500 1313
A little oasis of nature just outside the downtown core, High Park is the premier destination for couples looking for a romantic outdoor backdrop. With lush gardens and a pond full of gorgeous wildlife, there's nowhere else you'll get that classic park feel in the city. Reminiscent of Central Park in NYC, High Park is especially beautiful in the spring and summer months. If you visit at the right time, you could even get some shots among their stunning cherry blossom trees while they're still in bloom!
Location: Bloor and Parkside (west, just north of the QEW)
Permit: Permission may be required, as events may be planned.
Phone: 905 500 1313
The historic Distillery District, built in 1832, has become increasingly popular for not only special events but for wedding and engagement photos in Toronto. Featuring cobblestone streets, narrow alleyways and old brick buildings, this is the perfect location for couples looking for an old-city vibe. Its classic architecture and quaint shops give the areas a cozy feel and make for a gorgeous backdrop. Home to the annual Toronto Christmas Market, there's almost always something going on in the Distillery District.
Location: Mill St. (Between Parliament St. and Cherry St.)
Permit: $225
Phone: 905 500 1313
5. Edwards Gardens Conservatory, Toronto
If you're looking for a classic wedding park in Toronto, then look no further. With a grand fountain, staircase, and quaint little bridges, this is the ideal location for those looking for a traditional backdrop! Their gardens are lush with perennials, roses, and wildflowers, satisfying the dreams of every flower enthusiast out there. Not into fresh blossoms? You can find a beautiful rock garden in their valley for your background. With something for every couple, it's no wonder this has been a long time favourite of local photographers.
Location: 777 Lawrence Ave E , Toronto
Permit: The main section is free. For botanical gardens, it is $330 per 2 hours.
Phone: 905 500 1313
Perfect for those looking for a classic setting for their wedding or engagement photos, Osgoode Hall is a popular destination for photographers because of the versatility of its grounds. The building itself is reminiscent of the grand architecture that was popular in the 1800s, and the grounds feature cobblestone pathways and ornate iron fencing. In the spring and summer months, the building is surrounded with beautifully manicured gardens that feature brightly coloured tulips and cherry blossoms.
Location: Queen and University Street
Permit: No permit required, but you'll want to check beforehand that there are no events or filming scheduled. No photos allowed inside the building.
Phone: 905 500 1313
If you've ever visited the University of Toronto campus, then you know what we're about to say — it's absolutely stunning. The charming old architecture of the main campus makes for a stunning backdrop, which many couples choose to take advantage of. The beautifully landscaped campus, wrought iron detailing, and stunning archways are just a few of the features you can have in your photos when you choose this university campus for your photographs.
Location: College and University
Permit: $130 for non-alumni / $65 for alumni
Phone: 905 500 1313
8. Knox College, University of Toronto
Part of the UofT campus, Knox College boasts some of the most stunning neo-gothic architecture in Toronto. Parts of the building are covered in vining foliage, making for an old yet classic feel. The high ceilings, stone staircases, and grand pillars will give couples the grand, yet gothic look they're seeking. Beautiful in the warm sunshine or covered in snow, this is a great location year-round.
Permit: $335 per 2 hours.
Location: 59 Saint George Street.
Phone: 905 500 1313
9. Hart House, University of Toronto
Another part of the U of T campus, this prime location also boasts gorgeous Gothic-style architecture. With a beautiful stone exterior and lush green courtyard in the spring and summer months, this makes for a great outdoor location. However, some would argue that the inside is even better; grand archways, high ceilings, immense woodwork and cathedral-style windows are just some of the stunning features in Hart House.
Location: 7 Hart House Circle (U of T Campus)
Permit: No permit required if wedding is held at Hart House.
Phone: 905 500 1313
10. Black Creek Pioneer Village
This Victorian-style property is exactly as its name implies; it's a pioneer village that provides 19th-century vibes for couples going for an old-timey feel. Black Creek Pioneer Village features 40 restored buildings including homes, farms, and public buildings that'll take you back in time to the 1800s. The lush trees, green lawn, and quaint buildings make for an old-timey backdrop that's sure to make you swoon.
Location: Steeles Ave. & Jane St.
Permit: $150 for engagements, $300 for weddings
Phone: 905 500 1313
Another location perfect for those seeking a romantically grand backdrop, this Gothic Revival style castle is conveniently located midtown Toronto. Complete with a conservatory, terrace, and garden, there's little you won't find at Casa Loma. The mahogany wood in the library room is perfectly illuminated in the light of the chandeli
ers; step into the conservatory, and you'll be greeted by a stunning stained glass ceiling and the cathedral-style windows. It's easy to see why Casa Loma has won over so many couples!
Location: 1 Austin Terrace (near Bathurst and Dupont)
Permit: $500 depending on time of day
Phone: 905 500 1313
12. Front Street/Esplanade area, Toronto
A hot spot for locals on the weekend, Front Street and the Esplanade area is always buzzing on a Saturday because of the ever-popular farmer's market. With notable architecture like the Gooderham Building, this is a great spot for those looking to feature interesting buildings in their backdrop. There's a ton of shops and outdoor cafes, and even some green spaces if you're looking for a couple of shots among some fresh blooms.
Location: Front St. & Market St.
Permit: None required.
Phone: 905 500 1313
13. West Queen West, Toronto
This is one of our favourite locations; perfect for artsy, creative couples! Widely known as one of Toronto's hippest neighbourhoods, there's no shortage of unique photo ops in this area. If you're looking for something a little off the beaten path — as in, not very traditional — then this is the spot for you. You can pop into a trendy bar or cafe for some casual pictures, or hit up some of the colourful graffitied walls and alleys for a more edgy vibe.
Location: Queen West between Bathurst and Dufferin
Permit: None required, but you may want to ask ahead at some café's, bars or shops
Phone: 905 500 1313
14. Yorkville / ROM, Toronto
Yorkville is an uber posh neighbourhood, perfect for those looking for a more upscale vibe. Great for couples going for a more formal look in their photos, Yorkville has buildings that provide some great texture, and there are a ton of little nooks perfect for capturing sweet little moments with your better half. The Michael Lee Chin Crystal is a perfect example of the stunning variety of architecture here, and is one of our favourite backgrounds in the city!
Location: University and Bloor
Permit: None required
Phone: 905 500 1313
15. Unionville Main St, Markham
A quaint little street with some great texture, Main Street Unionville is home to a ton of cute shops. It's reminiscent of the quaint streets you'd find in Niagara-On-The-Lake, but the great part is that you don't have to venture too far outside the city for this small town vibe. With buildings that are virtually unchanged from their founding in the 1800s, you'll get the homey, small-town look you're seeking.
Location: Unionville Main St
Permit: $122.50 for 1 hour of wedding photography.
Phone: 905 500 1313